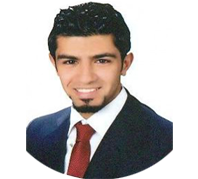 Abed Alqader Almaro
Associate
Associate at IHQAQ Law Firm
Commercial law.
Corporate law.
Litigation.
Execution law.
Labor law.
Landlords and Tenants Law
B.Sc. Degree in Law, Jordanian University, 2011.
Bar Association Membership
Advocacy license, Jordanian Bar Association, 2013.
Representing clients in litigation , including Financial claims , Claim for damages , Insurance issues , Civil lawsuits , Bad checks cases , Landlords and tenants lawsuits .. etc .
Implementation of judgments to the execution department.
Implementation of foreign judgments
Legal Studies & Researches
Involving children in armed conflict, Jordanian bar association , 2014 .
Protection of the Rights of the Child in the Jordanian law.
Human trafficking and forced labor.
Drafting contracts.
Corporate Law.
Practical measures to Supreme Justice Lawsuits.
Contract negotiation.
Providing and drafting legal advice.